Green Tips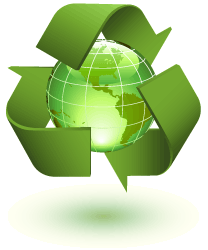 In this section we will feature our "top ten green tips" and other simple ideas to help reduce paper waste in an effort to continue promote and improve environmental efforts. Please see our Recycle Reference section for additional information and a list of resources.
Begin a recycling program at work or at home. Most communities have established recycling programs and will pick up your paper products, aluminum cans and plastic bottles along with your non-recyclable trash. See www.earth911.com for more information about local resources.

Purchase Recycled paper products and office supplies for your home or office. Many local supermarkets feature these green products.

Set up recycling and compost collection bins at your summer events/picnics and parties. Ask how to separate high grade paper from low-grade paper to aid in the recycling process.

There are more than 4,500 recycled-content products available, and this number continues to grow. Buy products manufactured with recycled materials whenever possible.

Purchase white paper instead of colored paper, white paper is easier to recycle. It does not require chemical stripping in order to be reused.

The average office worker generates a pound and a half of waste paper every day. Do your part by using recycled paper to write notes or take messages.

Print or copy your documents on two sides so you use half as much paper.

Buying products in bulk, with less packaging, or that are reusable (not single-use) frequently means a cost savings and helps the environment.

Reuse plastic bags or cloth bags for a cost savings at most grocery stores.

Recycle old phone books the pages are 100% recyclable and can be used to make new phonebooks. Fact: every year, new phone books and business directories arrive at your door. There are enough phone books created each year to measure 106,700 miles when lined up end to end. This means they would circle around the earth about 4.28 times!